For Clubs & Schools
Create a site profile, manage and promote your events from one place and offer participant registration.
Learn more...
---
For Federations
We provide a full independent version of the platform for federations with the same features plus membership and more.
Learn more...
How the platform works
For Clubs & Schools
The concept from the beginning was to connect the Towed Water Sports Organizations, Events and Athletes. WSconnect is the only platform that does this. It's an end-to-end turnkey solution that starts from the skier - to their club - to the federation, confederation, and IWWF.
We do this by offering the same platform for FREE to all clubs and schools around the world. By allowing you to input the same information we can collect and use this information to provide features that work for all of you around the world. The great thing is that if your Federation adopts the platform then your data will be migrated to their copy and you will get even more features.

For example purposes, the information here after is directed at the Water Ski Sports Discipline and it's connection with WorldWaterSkiers.com.
Register my Club/School
Features
Site Profile
Site Profiles
Create a site profile to list your information and add it to the world map.
Event Management
Events
Request & setup events and allow members to register and pay for them.
Camps/Clinics/Demos
Request & setup Camps/Clinics/Demos that are listed on the calendar.
Participant Registration
Allow skiers to enter your events from their WorldWaterSkiers.com accounts.
Participant Reports
Manage your participants, view reports and receive entry payments.
Extra WorldWaterSkiers Related Features
WorldWaterSkiers offers several features to enhance the WSconnect platform and promote your Club/School and Events. When creating an account on WWS it allows you to upload addition site information as well as photos and videos. The same for Tournament Events.
Participant Registration
By getting skiers to create an account on WWS they are able to enter your events from their account.
Tournaments Calendar <iframe>
Copy our iframe html code to display a filterable list of Tournaments from the WWS world calendar.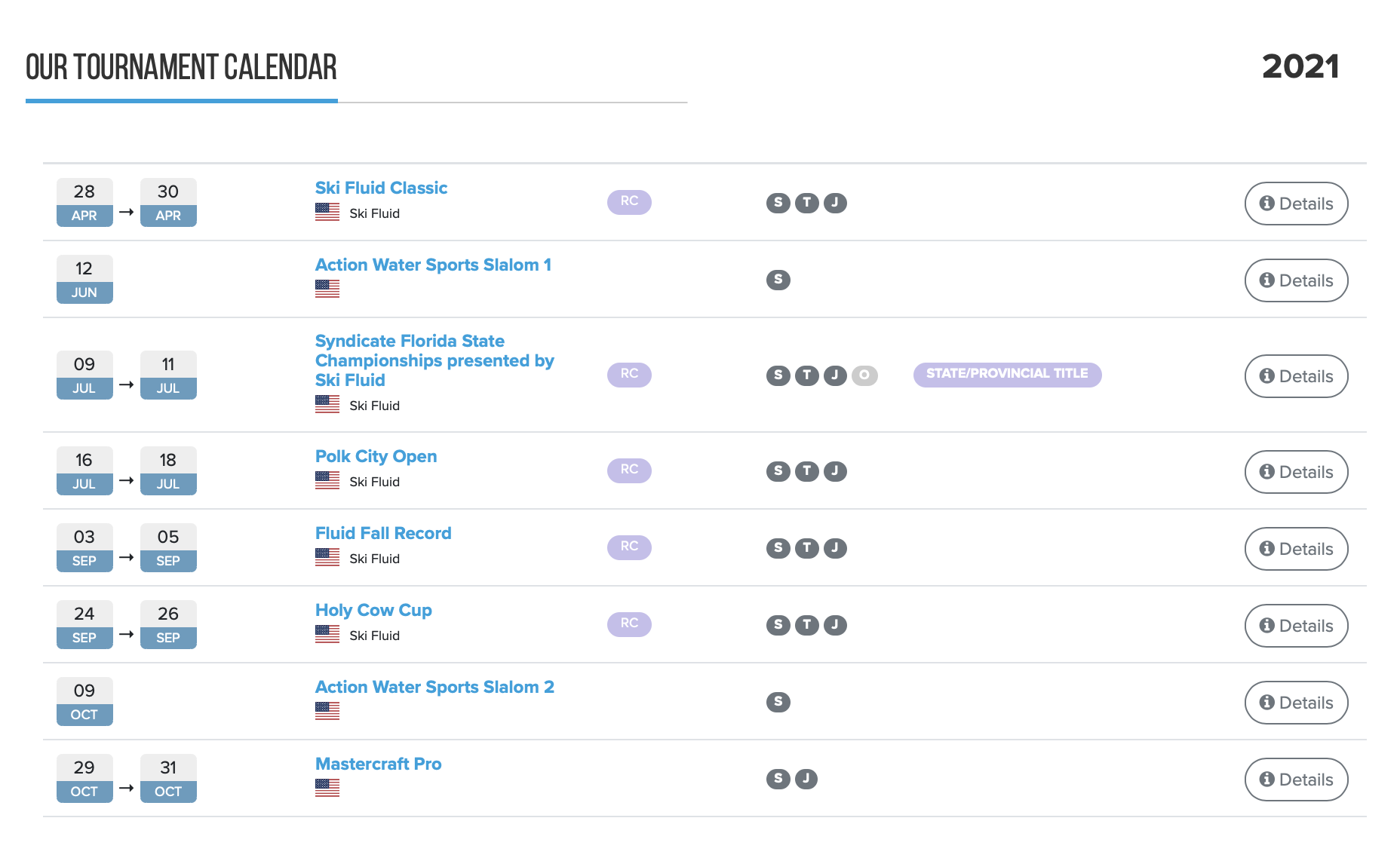 Athletes <iframe>
Copy our iframe html code to display a filterable list of Athletes that have created profiles on WWS.
Featured Customer
Testimonial
Kyle Eade
Ski Fluid, Polk City, FL.
WSconnect is a game changer! After hearing that Water Ski Wakeboard Canada was using it for its federation and that any club or school could use it i was ready to give it a go. The platform has already made my life easier and is offering my students and followers a better experience.
---
SkiFluid is has created a full Site Profile on WSconnect and has even added the additional layer of information within WorldWaterSkiers. Kyle has also added his Events and is using the Events iFrame to display the calendar for his events on his website. Kyle has also been working with us to develop the participant registration plugin for competitors to enter events. He will simply get them to use their WorldWaterSkiers.com account to enter online including payment.
Service Features
Friendly Support
We stand behind our product and we offer one-on-one, personalized support when you need help!
Lifetime Updates
We continue to update and improve existing features we provide.
Mobile Friendly
Designed to work and look great on mobile devices.
Easy to Use
Our platform has been designed with simplicity in mind for you and others to use.
Professional Security
Our services include professional website firewall and malware protection.
IWWF & Federation Compatible
We have included all the features and data inputs to send the IWWF & Federations the information they require.
Benefits
Saves Administration Time
Way More Efficient
Creates Consistency
Helps with Club Promotion
Increases Club Members
Tools that help you
Early Event Promotion
Allows you to represent your sponsors
Other Services
We not only provide the platform but we can help you with your website and graphic needs to get the most out of everything we offer. Whether it's for your Club or Events, we can provide a professional service at an affordable price.
Please contact us if you wish to discuss your needs.
Email us Now